About Kristi…
About Kristi…
Kristi is a 5th generation Californian, and grew up in Anaheim Hills.
During her free time, Kristi enjoys spending time with her amazing family, reading romance novels, listening to music, and is addicted to her computer.
About Kristi's Family

My Momma ~ Momma, you are my role model, and I love you dearly!  What would I do without you?  You are an amazingly beautiful person inside and out and I just want the best for you.  I am the Momma and you are my baby.


John ~ I love hearing 'the latest news' from Jerra on what he is doing next.  I am constantly amazed at his thoughts, energy, and daring for everyday life.  Whether it's hitting the gas pedal to get on the freeway, or flying his helicopter over mountains, I'm constantly in shock!  (Usually, I'm grabbing on to the closest door handle!) When we spend time together, I love listening to his thoughts on daily matters and getting his opinion on particular business strategies.  Johnny, I love you and thank you for always taking care of me.  You will never realize how much I appreciate and love you.  To visit John's Racing Website, click here.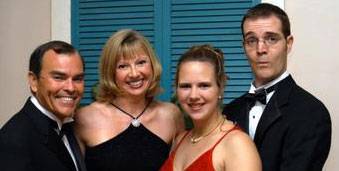 Daddy ~ Life is good eating a home-cooked meal at Dad's house in Glendale.  Running over to my Dad's house on weekends has always put me in a relaxing mood.  Even with three new babies in the house.

  Whenever I visit, I'm always able to step into a different mood, relax, and get advice.  Dad, thanks so much for being there my whole life.  I always feel more relaxed when I'm with you and able to ask you any weird question and will always get a thoughtful answer.  It's also fun arguing with you.  I ALWAYS enjoy that!  Especially with Scott.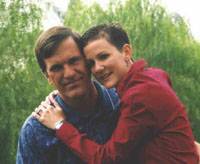 Cindy ~ My Dad's wife, Cindy, is a wonderful addition to the family.

  Cindy, if I didn't have you to talk to as an outlet for my frustrations, I don't know where I'd go! hehe – On the best note, it's been wonderful watching our family grow in the past year.  You are amazing in how you are constantly everywhere, doing everything, and so thoughtful to everyone.  Thank you for being there when I need you.
*************************************************************

Katie ~ My sister is a whirlwind of energy and has been busy building her career and enjoying life.  Katie, I love you.  It's so nice having an older sister to ask for an opinion or a thought.  You are an amazing

Scott ~ I'd call you Scotty, but I'm trying to get over that as I'm sure you hate that nickname.  Scott, my baby-brother (not really any longer though), you are SO funny.  Watching you grow up is a shock to me.  I love the fact that you have a good sarcastic mouth on you and are able to hold your own with Dad.  Keep on arguing, and if you need another voice, just call.  Oh ya, how is Holly? (hehe)
Kara, Kyle, & Ryan ~ Awww… what can I say?  It's so peaceful to hold a sleeping baby in your arms.  You guys are super cute and I can't wait for you to grow up.  To visit their website, click here.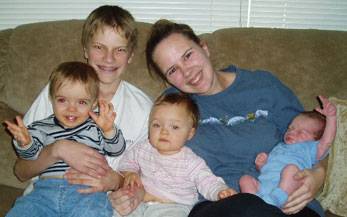 Danny ~ I have to put a mention of Danny on this website.  He met Justin briefly and (I like to imagine) approved of him.  Danny, I think of you every morning.  To visit Danny's memorial website, click here.